One Wave Surf carries a large stock of quality new and used surfboards and longboards for sale or rent in the Los Angeles area. Make an appointment to buy or rent the perfect board for you!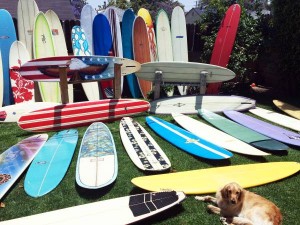 Buying a used surfboard has several benefits:
you get to ride top-knotch surfboards and longboards for a fraction of the cost of new gear
you save the environment, because choosing to ride used surfboards keeps a considerable amount of plastic from being buried in a landfill, or even worse, ending up in the atmosphere
Need help finding the right used surfboard for your riding style and skill level? Contact us, and we will be glad to help you pick the surfboard that best fits YOU.