EL Salvador Surf & Yoga Retreats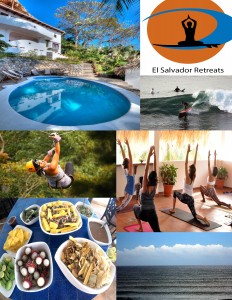 El Salvador surfing consists of some of the most consistent waves in the world. Its warm water and temperature are ideal any season. The beachfront retreat villa is fully equipped and comfortably sleeps up to 12 people, Perfect for small group retreats or a couples and families.
El Salvador is a beautiful, tropical country with spectacular vistas and comfortable weather year-round. The early morning and late evenings see temperatures in the 70s °F, while days usually hover in the 80-90s °F. There are stunning locations to set up yoga classes directly on the ocean view deck at Villa Del Olas, as well as yoga at the beaches, yoga on the volcanos, yoga in the natural forests, and other fantastic yoga locations nearby. Yoga has really taken off here and the retreats are much more fair in price than yoga retreats in other Central American locations like Costa Rica.
Teachers from all over the globe have already gravitated to this hidden paradise. As a result, El Salvador has a robust international yoga scene, and World-class instruction is abound.
For more information please visit www.elsalvadorretreats.com
DCIM100GOPROG0010020.